Mom & Baby Yoga
Yoga Bonding with Baby
Yoga Bonding with Baby meets once a month on Saturdays. Next classes are: Sun., Sept 16th from 12:30pm - 1:40pm & Sat., Oct. 13th from 12pm-1:15pm.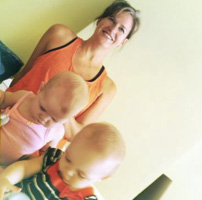 This special class is a baby integrated postnatal yoga practice designed for babies and caregivers from 6 weeks to crawling. This sequenced program is designed to meet the developmental needs of babies nurturing and fostering rhythms for sleep, digestion and more.
Although Yoga Bonding© is perfect for dads and caregivers, there is special attention placed on the needs of moms in the postnatal period. Come, enjoy an hour with your baby. Learn new ways to bond, enhance your connection, and find community.
Cost:
$15 for one adult
$25 for two adults attending with baby.
Email Sarah to find out more about the class: ksc.sarah@juno.com