WORKSHOPS, SERIES CLASSES AND EVENTS
OCTOBER
Kirtan with Johanna Beekman
Friday, Oct. 13th from 7:30pm-9pm
Come experience the shared heartbeat of kirtan and devotional singing with Johanna Beekman and friends. Johanna's unforgettable songs will open your heart and inspire you on your journey long after the last note fades into silence.
Johanna will be offering a kirtan on Friday evening October 13 and a workshop on Saturday morning, October 14 at another venue. Purchase tickets for both events and get a discount. Read on for more details:
Kirtan at NOKOMIS YOGA on Oct 13, 7:30pm:
Join us for Kirtan with Johanna, kirtan wallah hailing from Portland, Oregon. Johanna tours the country with her infectious song-stylings, inspiring a new freedom of voice and spirit, during her kirtan events. Participants often become a part of the creation of the chants, layering on their own unique voices.
Johanna will be joined by her response singer, Kelly, as well as local drummer Will Kemperman. Complimentary copies of Johanna's recent CDs Heart Beats One and Beyond Love to share with the community: johannasings.com/heart-beats-one-private-release/ password:efoincw93 johannasings.com/beyond-love-soothing-songs-soul-private-release password: iencsl835
You need a ticket. Just $20. Purchase by clicking here
Kirtan with Kirtan Path
Saturday, Oct. 21st from 7:30pm-9pm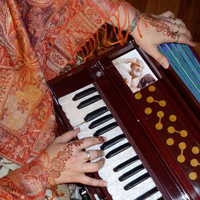 Come and chant with Pascale and Co. Bhakti Yoga is a very deep and beautiful yoga practice that anyone can do. Come immerse yourself in the chants and open up to a new experience of yourself.
As we move into summer, what better than to join in community to sing some kirtan! And if you know someone who might enjoy coming to these events, please invite them. As always, a love donation is appreciated. All are welcome.