WORKSHOPS, SERIES CLASSES AND EVENTS
APRIL
April Community Karma Yin Yoga with Jen Lubow
Sunday, April 22nd from 6pm-7:15pm
In this fast paced world, where we are bombarded with technology and news 24/7, it is vital to find balance so the body and mind can rest. Enter Yin Yoga. Unlike other styles of yoga that use muscle engagement, Yin Yoga creates space in the body with passive, supported poses that are held for 2-5 minutes. By settling into our comfortable edge, we allow our connective tissue to open and encourage the flow of life force (chi) through our energy channels (meridians). Yin is a quiet, mindful practice. As our body opens, our thoughts settle, and we are profoundly nourished.
Class will begin with guided breath work and end with the chanting of seed syllables to align the chakras. Come as you are to this meditative, revitalizing class. Suitable for all levels and bodies.
Jen Lubow will lead this Yin Yoga practice. All donations go to Friends of the Mississippi. Do good, feel good. Recommended donation: $15- $20 (cash or check).
MAY
NAAD in KIRTAN with Anna Meher
Saturday, May 12th from 7-8pm
Experience a vocal yogic art of Mantra in sacred sounds from Ancient India on a path of serenity and self-awareness. Anna Meher plays a traditional instrument and will lead you onto a contemplative inner journey. Listening is all it takes and at times, your own voice will deepen the experience. No musical background needed, only the freedom to close your eyes and open your heart.
$14 at the door, $12 online, $5 teachers/therapists registering at www.naadyoga.org
-----------------------------
Kirtan with Kirtan Path
Saturday, May 19th from 7:30pm-9pm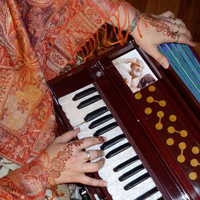 Come and chant with Pascale and Co. Bhakti Yoga is a very deep and beautiful yoga practice that anyone can do. Come immerse yourself in the chants and open up to a new experience of yourself.
As we move into spring, what better than to join in community to sing some kirtan! And if you know someone who might enjoy coming to these events, please invite them. As always, a love donation is appreciated. All are welcome.